What makes the WoodHaven team special? Watch this to get a sense.
From the forest to your home
We've considered ourselves to be different since 1987. More than 30 years later, we're not shy about why.
The degree of care we take in how wood is chosen, dried and planed has a word: passion. We are particular.
Our fit and finish are number one. We dry and manufacture our products differently, so they fit perfectly.
Amish millers located seven miles from us choose, cut, and hand-sort wood specifically for us. They know exactly what we want.
We knew three decades ago that top quality and high speed don't mix. We made a conscious decision to focus on quality.
Bigger mills have better margins than we do because they run faster, and they care less. We'd rather create wood as it should be.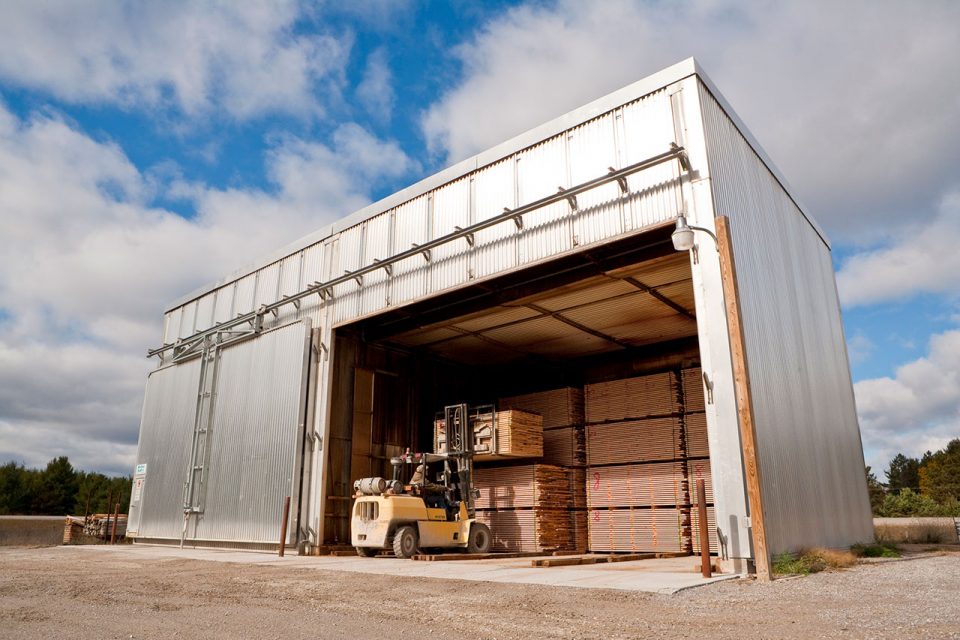 As soon as our wood is cut we shove it in the kiln and dry it at a lower moisture content than anybody out there.
Our planer runs slower than most of the others in the wood industry. We have done this on purpose since the start to give ourselves the opportunity to "defect" or take care of any bad spots. It's why our pieces are 100% usable.
We could run faster. We could scramble. We choose not to for the sake of quality. The way we create beautiful, custom wood products that last generations has been the foundation of our company culture since day one.
Please check out a few of our videos and blog posts while you're here. If words like "quality" and "integrity" really mean something to you, we'd like to make you part of our story — because customers really do become family at WoodHaven.
We kiln dry and custom cut our wood products for:
half-log siding
walls
trim and
accessories
If you're looking for anything from cedar log siding to wood paneling, and quality is important to you, we should talk.
We also create wood products that make life easier for contractors. They love working with our products because of the quality. They can tell we care — from the trees we choose through installation.
If you're looking for a tiny home or a log cabin, check out all the ways we'll customize one for you.
Our high-quality wood will last the test of time. It won't warp or shrink. We create wood products for you to enjoy, not maintain.
We know you care about your home. We'll help you wrap it in the quality wood siding it deserves (we only use cedar or white pine — not red pine because it seeps when it's exposed to the elements), and dress the interior with any of our custom products, from knotty pine, aspen or cedar paneling all the way up to a tongue and groove custom wood ceiling.
Our customers care about quality. They rave about ease of installation and low maintenance. See what we mean here. We've been featured on Tiny House Nation a lot!
We choose the northern Michigan timber we want to work with instead of settling for whatever is available. We've perfected the process of kiln drying, custom cuts and end-matching process. We actually care about our customers — most become friends.
You're going to get the project you imagine. We bet it will exceed your expectations. You'll relax because you'll be working with experts that have been creating custom wood products for a few decades.
We'll probably engage in a dialogue a couple of times before we place your order; you'll know you're going to get what you wanted.
You'll be thrilled with the result — and in the very rare case that something's not right, we'll be there to make it right.
We don't just talk about integrity, creating custom wood as it should be, and being "true to the grain" because it sounds good; we live it. We have a long, long list of friends that started out as customers.
We love what we do. We take pride in our work. We won't take you for granted.
Check out our work on any of the episodes of Tiny House Nation that feature us.
Call us for a sample or order a sample kit.
Come and visit our mill.
Call us to talk about your project.
Send us an email.
As part of Woodhaven's philosophy of preserving and protecting our natural resources for future generations, our suppliers adhere to the standards and guidelines set forth by the Sustainable Forestry Initiative.® From wood scraps to sawdust, we recycle all of the by-products from our milling process. We respect the wood, as well as our environment.

Rick Bills, Owner
WoodHaven Log & Lumber